Automatic Flour Mill Plant
The automatic flour mill plant is a set of flour milling machine which comes in varying sizes and can work continuously for a long period of time. It uses the Programming Logic Controller System (PLC). They can grind different kinds of grains to make flour, and are of practical designs, easy to operate, maintain and does not take up space.
Automatic flour mill plant comes with techniques and more advanced flour-milling experiences, capacity form 5T-200T/24h.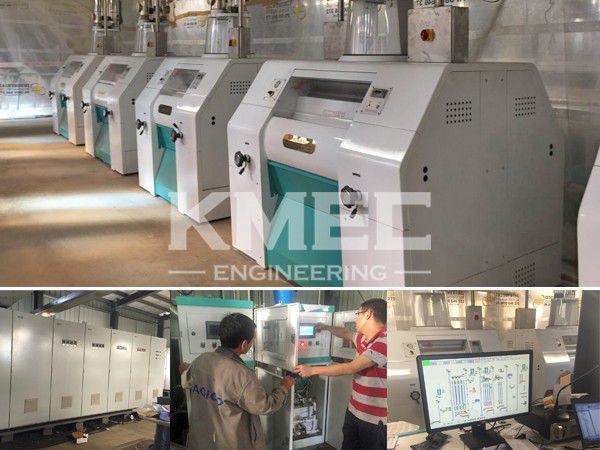 Other benefits of this flour mill plant includes:
it uses advanced level of technological support and customised designs.
it remain functional for a very long period of time as long as it is well maintained.
it is made to be dust-free, and enhanced with low power consumption rate.
it can be gotten at an affordable price and of very good quality.
some others come with internally installed winnowing and dust-removing blowers.
some of these machines use advanced milling techniques and technology with its structures easily installable and maintained.
due to its advanced functions, milling techniques like four-break, four-reduction, one-scratch, one-bran brushing, is applied.
complete automatic flour mill plant grinds well with the use of the refined purifier, separating the main contents neatly from its residue.
end products are always flours of best quality.
they have full pneumatic control which is one of the top ranking product of the world, and which can be used independently or through a remote panel.
the structure of an automatic flour mill plant such as the wheat flour mill is built with a duplex-like structure, having a upper structure as well as a lower one and this is designed to accommodate the two side frames of roll mill. Also, in this kind of structure, the damping washer is attached to both upper and lower parts.
Lastly, the body of most automatic flour mill plant is durable, hardly wearing off due to the kind of surface treatments usually given to them, such as the static electric sprayed paint technology.

In all, the use of the full automatic flour mill plant is meant to save time, energy and resources, while increasing output. There are different models of automatic flour mill plant, each with their unique advantages, capacities, varying technological specifications, sizes and quality.
   SEND ENQUIRY
We receive enquiries in English, Español (Spanish), Русский язык (Russian), Français (French) and العربية (Arabic). Our professional team will reply to you within one business day. Please feel FREE to contact us!