Flour Mill Plant Construction
When you are planning to start flour milling, one thing you must have is a flour mill plant. A flour mill plant is basically a set of machinery which you use to mill your flour to desired particle sizes. To get such a plant, you need to have it designed and completed by professionals trained to do this. There are numerous companies out there that promise to give you great services when it comes to designing and completing flour mill plants. They offer these services at different flour mill plant costs. Not all of these companies deliver what they promise. This is why you need to go for a reputable company that knows exactly how to give you quality flour mill plants.
Design Sketch of 80TPD Flour Mill Plant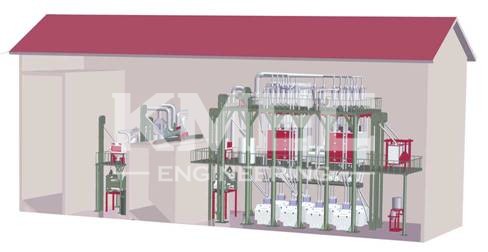 Our company will help you figure out what you need from the original design to the factory completion. The first thing we do when a client visits us is to know what exactly they are looking to get. Are they looking to get a flour mill plant for their home or for commercial purposes? Do they have a large space or small space reserved for the plant? It is very important for us to get this information from our clients because it enables us to know the exact size we need to design for the client. This kind of information enables us to give the customers exactly what they want. This prevents customer disappointment.
Design
Once we have all the details we need, we get to the designing stage. At this stage, we come up with a plant design we know our client will get the best from. We have a team of professionals who are highly qualified to do this. Some of the features you should expect from our flour mill plants include: low power consumption, dust-free and spare parts among other features that make our plants the best in the market.
Bring our plan to life by constructing the plant
After we have designed and our client likes where the project is headed, we get to bring our plan to life by constructing the plant. We have highly trained and experienced staff for this. They make sure that the plant is well executed as per the designs and plans given to them. This is what helps them come up with a flour mill plant which is exactly the same as the one in the plan and design. The construction takes a while to complete since the people involved have to make sure the execution is perfect. There are also test runs that are done in order to ensure that nothing in the plant is faulty in any way. The client is also trained on how to use the plant in order to ensure they have an easy time once they take it home.
How much a flour mill plant cost on earth?
Most people ask the question, how much will it cost to build a flour mill plant? Flour mill plant project costs depend on the size and type of mill you want. The only way you can know the costs is if you talk to the service providers and tell them what you would like in a flour mill plant.
   SEND ENQUIRY
We receive enquiries in English, Español (Spanish), Русский язык (Russian), Français (French) and العربية (Arabic). Our professional team will reply to you within one business day. Please feel FREE to contact us!