10TPD Wheat Flour Milling Plant for Sales
Wheat flour is a common food that is made from wheat by grinding into powder. There has been a great demand for wheat flour on the market, so more and more wheat flour mill plants are built in many regions. But, what is the wheat flour production process? what about the price of wheat flour milling machine? How to choose and buy the right wheat flour milling units?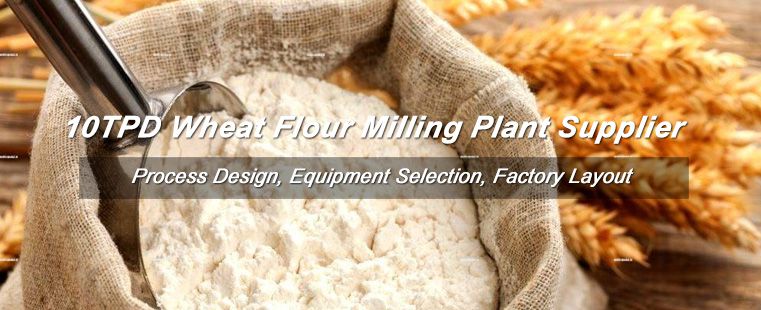 Wheat Flour Milling
ABC Machinery provides factory price flour mill machines to process wheat, maize/corn, rice and other grains. At the same time, we boast strong capacity to provide turnkey project service to set up complete flour mill plants. In many countries, there are the flour mill plant built by us, like Pakistan, Ethiopia, Kenya, Chile, Egypt, Romania, Sir Lanka, etc.. If you are interested in, please contact us to get the project report and project cost!
10 Ton/Day Wheat Flour Milling Machine for Sales
The 10TPD wheat flour milling machine provided by ABC Machinery features two sets of flour mill machine. It is ideal equipment to start small scale flour mill project due to its less investment, easy operation and less maintenance. We are the reliable wheat flour milling machine manufacturer in China, we can promise the most favorable factory price for you. (Read More: Cost of Setting up a Flour Mill >>)
Technical Data of 10TPD Small Wheat Flour Mill Plant
| Capacity | 10 Tons Wheat Flour Milling Machine |
| --- | --- |
| Cleaning Technology | one sieving, one scouring, one de-stoning, one dampening |
| Flour Milling Technology | double flour milling |
| Matched Power | 27.5kw |
| Factory Size | L19m *W5m*H4m |
Small Wheat Flour Milll Plant Working Video
What is the Price of Wheat Flour Milling Machine?
Actually, the flour mill machine price depends on its brand and quality. Generally, small wheat flour machine with automatic feeding is more expensive than manual feeding. The price ranges from hundreds to ten thousands. But, the exact price should be based on the specific capacity and quality. If you are interested in our wheat flour milling machines, please contact us to get the price list and technical parameters!
How to Purchase the Right Wheat Flour Milling Machine?
In general, four mill machinery is a relatively large grain processing equipment. So, it is necessary to pay attention to the function and quality. If you buy something and find that you don't need it, it can be very troublesome to switch back and forth. If the quality of the selected flour processing machinery is not satisfactory, the later maintenance is also a big expense.
The flour processing machinery is made of all steel welded, not using the forging process. The flour mill machine grinds the processed wheat, and the flour and bran are subjected to airflow and collected by different equipment. The grading equipment in the flour processing machinery is like a sieve, which can sort and collect the different ingredients in the flour without producing residue, and the yield is very high.
Flour processing machinery can also adjust the flour fineness, so that the flour particles uniform and meticulous, no longer need to sieve powder. The vulnerable parts of the flour machinery are made of wear resistant alloys. They are hard and wear resistant and can be easily replaced if any wear occurs.
Flour processing machinery can clear the material without stopping the machine, so as to prevent clogging. The flour machine also has the function of destroying a variety of different materials, and the flour is mixed evenly, graded and collected without residue.
From the above information, you may also know that the price of wheat flour milling machine is also based on the material and brand, as well as quality. Manual type is usually cheaper, while the automatic type is more expensive. When buying flour processing equipment, if you still have questions, please contact us to get more guidances!
   SEND ENQUIRY
We receive enquiries in English, Español (Spanish), Русский язык (Russian), Français (French) and العربية (Arabic). Our professional team will reply to you within one business day. Please feel FREE to contact us!