How to Choose the Best Maize Milling Machinery for Investment?
In recent years, production in the flour industry has been increasingly in full swing, especially with the development of maize flour milling. More and more people are joining the maize milling machinery industry to gain more revenue and profit. And the choice of maize milling machinery is very important for investors, related to the output ratio of investment, so it must be taken seriously.

ABC Machinery offers a full range of services in the flour business, from individual machines to complete plants, from individual machine retailing to plant process design to installation and commissioning. With leading technology and processes, a comprehensive pre-sales and after-sales system, ABC Machinery's flour plants have been well received by customers both at home and abroad, and many flour production plants and projects of different sizes have been built around the world.
Hot Sale Maize Milling Machinery for Investment
We are offering these two small maize flour milling plants for the new startups and the investors who have a low cost budget. Also, we have the large scale flour milling machine line for the investors who have business plans to enlarge the maize flour production.
The maize milling machinery is designed for investment, with the advantages of being small in size, light in weight, easy to install, easy to operate, easy to maintain, easy to repair, easy to transport, less cost and high return, very suitable for the investment.
Investment Cost Reference
| Plant Specification | Refenced Price (USD) |
| --- | --- |
| 30TPD maize flour plant | 3.5-4.5 |
| 100TPD maize milling line | 30-36 |
Due to the different features of the different scale maize flour production, their prices are different. You can contact us to get the latest price list of maize flour milling machienry for investment!

How to Choose the Best Maize Milling Machinery for Investment?
The quality of maize milling equipment is related to the final result of the whole business plan, so you must be careful and conscientious when choosing equipment. Here are the two tips for you.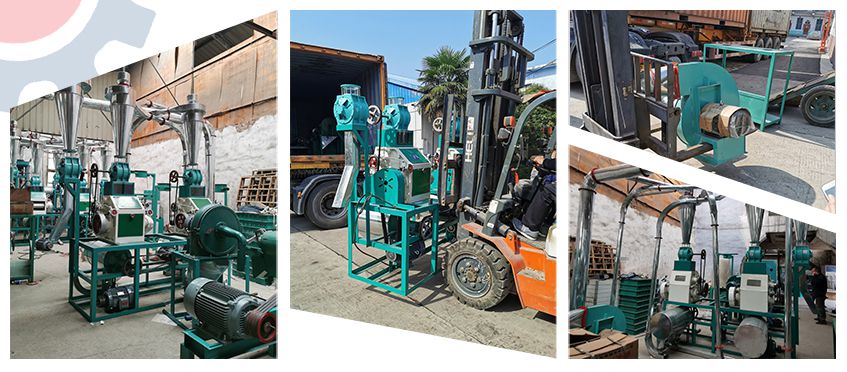 Customized Maize Flour Milling Plant on Shippment
For the New Startups
For the new investor, it is possible that he does not know the industry very well or does not have a deep understanding of the equipment standards of the industry. So such an investor has to pay attention to the following points when choosing.
According to the market of this industry and the local market demand to choose equipment.
Due to being the new one to the industry, it is better to choose the small scale maize flour milling machine.
To look for those maize mill machine manufacturers and suppliers who can retail and wholesale the equipment.
For the Investors with Experience
For those investors with some experience in the maize milling machinery industry, they are more or less knowledgeable about the industry, and the local market demand is also investigated and memorized. Therefore, they need to be different from the novice.
Looking for those in the flour production equipment industry who have a wealth of experience in the supplier or company.
Look for those who have the strength and can visit the supplier, which helps to understand the strength of the supplier.
Find those who can supply single maize milling machines, small maize milling plants and large scale maize milling machinery line manufacturers, which helps to meet the requirement of final users who want to expand the production scale.
Making maize flour for investment with maize milling machinery projects in Kyrgyzstan, Pakistan, Bangladesh, Uzbekistan, Saudi Arabia, etc., at low cost. by ABC Machinery maize milling machinery manufacturer or supplier at factory price. Welcome to contact us for mroe information, we are alwasy here for you!
   SEND ENQUIRY
We receive enquiries in English, Español (Spanish), Русский язык (Russian), Français (French) and العربية (Arabic). Our professional team will reply to you within one business day. Please feel FREE to contact us!