Why is The Small Flour Mill Machine Popular?
Small flour mill, also called mini flour mill, refers to a series of equipment with small size and production capacity to mainly make the wheat or corn into flour used for and further production in daily life .
Hot Sale Small Flour Mill Machine
This small flour milling machine is one of our hot sale types widely used for making flour to use in daily life, building small scale flour production lines, and starting new business in the grain flour mill industry etc. Our hot sale small flour milling machinery types includes small wheat flour making plant and mini corn flour processing plant.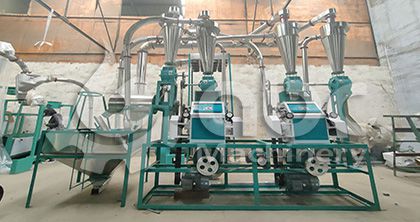 Small Flour Mill for Wheat Milling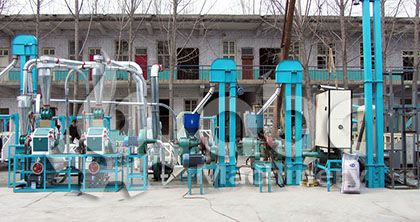 Small Flour Mill for Corn/Maize Milling
Welcome to buy factory price small flour mill from ABC Machinery, to learn to process wheat anf mazie flour and get FREE guidance to setup small flour mill projects for business in Kirghizia, Pakistan, Ukraine, Kenya, Ethiopia etc. at low cost.
Why is the small flour mill So Popular?
Self Highlights
Small flour mill machine body for non-casting materials, using full steel plate welding.
The small flour machine in addition to special cutting function, grain flour processing equipment is synchronized with the division device, crushed materials by airflow, collected by the division device, the division device usually replaces the crushing equipment sieve, can simultaneously complete the micro-crushing and micro-powder sorting two processing procedures, a one-time powder without residual residue, the finished product rate is good.
Unique Function
Small flour milling machine does not stop at any time to clear the material and anti-clogging function, flour can ensure the normal operation of the equipment and non-stop function to automatically clean and crush a variety of different materials.
Mixing uniform, secondary into powder without residual residue, no cycle of crushing, can ensure the uniformity of the content of various ingredients.
Small flour mill feed size is not limited, without coarse crushing can be directly into the machine, and can adapt to a variety of different moisture content of the material, without the need for drying equipment, reducing the whole flour production cost.
Small flour processing equipment can adjust at any time the fineness of the product, uniform fineness, no need to increase the sifter screening.
Mini flour processing machinery wearing parts are all made of special wear-resistant materials or hard alloy, good wear resistance, low cost of replacement of wearing parts, in line with the health standards of various products.

Buying Suitable Small Flour Mill
ABC Machinery has been engaged in the business of producing small flour millry for many years, and as a regular flour processing machines manufacturer and supplier, we have produced equipment that is cost effective and efficient.
We use high quality raw materials for the processing of mini flour making equipment, strict control from technical staff , and be sure to do a good job every step to ensure that the equipment we produce are the top quality products. Our small flour mill has been received by the majority of customers around the world, and has become a good reputation on the Internet brand of flour milling equipment industry. If you want to buy the small flour making machinery, you are welcome to visit our factory and all our staff welcome you!
   SEND ENQUIRY
We receive enquiries in English, Español (Spanish), Русский язык (Russian), Français (French) and العربية (Arabic). Our professional team will reply to you within one business day. Please feel FREE to contact us!