What Is the Application of Soybean Isolate Protein?
Everyone wants to have a healthier lifestyle and is becoming more and more concerned about their body image. Soybean isolate protein has many nutritional effects, for example, if you want to lose weight, soybean protein isolate can help you lose weight while also achieving a balanced nutritional intake.

ABC Machinery is a professional manufacturer and supplier of soybean isolate protein making equipment that provides investors with the most cost effective soybean protein isolate production equipment available.
Soybean Isolate Protein Overview
Soybean isolate protein is the highest protein content soy protein. It is processed from defatted soybean meal by soybean protein isolate extraction plant. With removing most of the fat and carbohydrates, the finally produced isolate protein contains 90% protein. As a result, soy isolate protein has a very neutral flavor and a relatively high price compared to other soy products.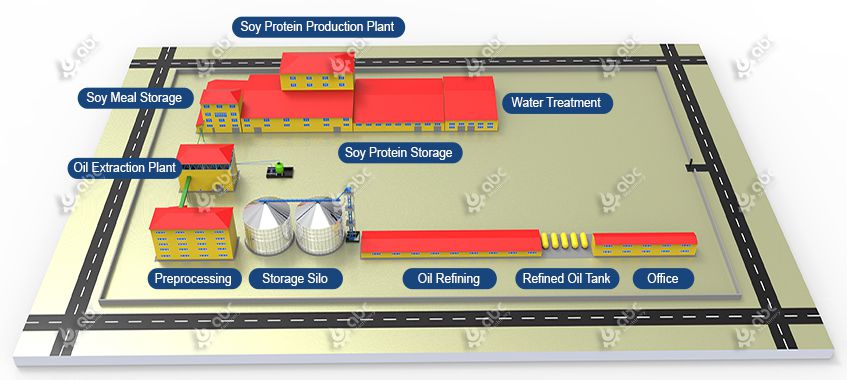 Soybean Isolation Protein Production Flow
Because most carbohydrates are removed, soybean protein isolation does not cause bloating when consumed. Pure soybean protein isolate is difficult to find in stores and is mainly used in the food production industry and is less likely to be used directly by consumers.

What Is the Application of Soybean Isolate Protein??
Using high technology to remove the soybean oil and water-soluble non-protein parts from the dehulled soybean is mostly soy isolate protein. Due to the high content of protein, it is the main base of egg food, and compared with other proteins, soybean isolated protein in the body digestion and absorption of raw material is still very high. Thus, soy isolate protein has a variety of applications during our daily life.

Applications of Soybean Protein Isolate
Wide Soybean Isolate Protein Applications
| Industry | Details |
| --- | --- |
| Specially for pet food field | Dog food, cat food, etc. |
| Meat products processing | Ham sausage, grilled sausage, sandwiches, meatballs, luncheon meat, canned meat, etc. |
| Bakery products | Bread, cookies, cookies, cakes, etc. |
| Specially used in the field of nutritional meal replacement | Protein powder, nutritional rice flour, soy milk powder, etc. |
Making soybean isolate protein with soy isolate protein extraction machine plant project in Kyrgyzstan, Pakistan, Bangladesh, Uzbekistan, Saudi Arabia, etc., at low cost by soybean protein isolate extraction machinery manufacturer or supplier at factory price. Welcome to contact us for more information about producing soy protein isolate.

   SEND ENQUIRY
We receive enquiries in English, Español (Spanish), Русский язык (Russian), Français (French) and العربية (Arabic). Our professional team will reply to you within one business day. Please feel FREE to contact us!