What's Machinery Required in Fully Automatic Wheat Flour Milling Machinery?
Flour-made food is an important part of people's food. All kinds of flour that we eat daily are realized through the flour making process of the complete set of flour mill plant. Flour milling process refers to the process to make wheat, corn, sorghum, soybeans and other crops into flour using a suitable method and machinery.


Wheat Flour
ABC Machinery is devoted to providing high quality and low cost grain processing equipment and flour milling machinery for customers' household use or commercial use. In the past years, we have built many flour mill plant for wheat, maize/corn, rice, etc. around the world. We can offer customized plan for equipment selection, installation and commissioning. Most important, our complete after-sales service and competitive price are also the reasons that many customers choose us as their flour mill plant supplier.
Fully Automatic Wheat Flour Milling Plant
This fully automatic wheat flour production line is suitable for the production of soft wheat, hard wheat, flower wheat and other varieties of wheat, the quality of produced wheat flour is stable. The Wheat Flour Milling Process has cleaning section and flour milling section.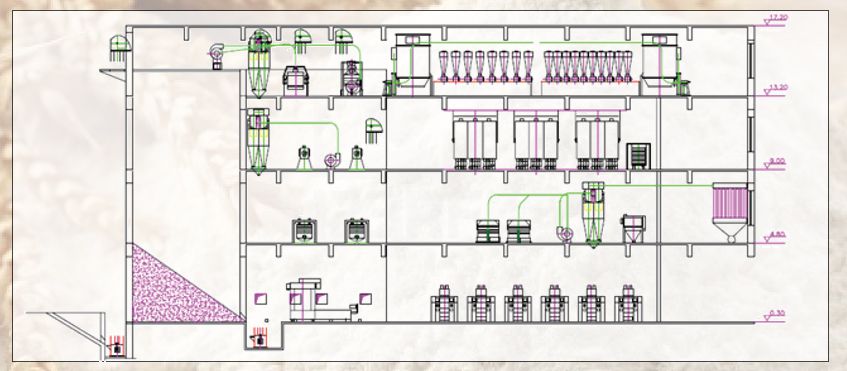 Automatic Wheat Flour Milling Plant Layout Design
| Model | Power (KW) | Capacity (T/24HRS) | Dimension of workshop (L×W×H) M |
| --- | --- | --- | --- |
| 80TPD | 263 | 80 | 30*8*10 |
| 100TPD | 370 | 100 | 30*10*13 |
| 150TPD | 580 | 150 | 42*10*18 |
| 200TPD | 710 | 200 | 42*10*21.5 |
| 300TPD | 960 | 300 | 50*15*25 |
| 500TPD | 1520 | 500 | 60*18*28 |
Because of the seed selection, cultivation, harvesting, threshing, drying, drying, transportation and storage, it is inevitable to mix with a variety of impurities in wheat. The purpose of wheat cleaning is to remove impurities to ensure the normal operation of the equipment to ensure the quality of the finished products. It also can help to make rational use of resources for the wheat flour production.
Wheat Flour Milling Process
Wheat milling is the most complex and important process in wheat flour processing plant. The purpose of flour milling is to process wheat (net wheat), which has been cleaned and moisture adjusted, into wheat flour with different requirements through mechanical action, and at the same time to separate the by-products. The key to the flour making process is how to separate the endosperm from the wheat husk and wheat embryo as far as possible. The milling process mainly includes grinding, bumping, cleaning and sieving.

Automatic Wheat Flour Miling Project
In order to improve the flour milling efficiency and help our customer to better adjust the competitive market, now most of our equipment is automatic flour mill machine. Some of our automatic wheat flour milling plant project are well recogized by our cusotmers. (Related Post: Flour Mill Project Cost >>)
40TPD Small Wheat Flour Mill Plant Setup in Ethiopia
160TPD Complete Automatic Wheat Flour Processing Plant Built in New Zealand
Automatic Wheat Flour Milling Machinery Features by ABC Machinery
Most wheat flour milling machine in the market peels the wheat through the grinding roller to keep the bran intact. Grinding the flour finely while scraping the endosperm from the bran. But in this way, it is inevitable that the bran will be ground and mixed into the flour, so that to affect the purity of final flour. Especially in the case that the number of grinding machines is small, not only can not improve the purity of flour , making a certain amount of pure wheat core, but also can not producing high-quality flour.
But our automatic wheat flour milling plant adopts the peeling and flour making technology, it is firstly peeling and then making flour. After dampening and tempering the wheat, removing the surface skin that affects the purity from the endosperm by a peeling machine, and then grinding endosperm to make flour.
Main Equipment for Wheat Cleaning in Four Mill Plant

Main Wheat Cleaning Equipment
The main cleaning equipment in automatic wheat flour production plant has vibrating sifter, de-stoner, rotary sifter, cylinder separator, etc.


Complete Set of Automatic Wheat Flour Milling Machine


Automatic Wheat Flour Milling Machine for Sales
The main automatic flour milling machine provided by ABC Machinery has pneunmatic mill, high plansifter, purifier, bran finisher, impractor, etc.
Automatic Flour Milling Plant Production Video
Through the carefully process of the complete set of flour mill plant, the agricultural product wheat is transformed into suitable raw materials for the food industry and staple food ingredients for the family, which not only guarantees the market supply, meets the people's living needs, but also realizes the value-added of the product, which has accumulated for the country's wealth. ABC Machinery always try to meet customer's needs by providing high quality equipment and relatively low price.
If you are interested in our fully automatic flour mill plant, please feed free to contact us to latest machine parameters and price list!

   SEND ENQUIRY
We receive enquiries in English, Español (Spanish), Русский язык (Russian), Français (French) and العربية (Arabic). Our professional team will reply to you within one business day. Please feel FREE to contact us!