How to Make Flour Mill Plant Construction Design?
When you are planning to start milling flour, one thing you must have to do is to start a flour mill plant. A flour mill plant is basically a set of machinery which you use to mill your flour to desired particle sizes. To get such a plant, you need to have it designed and completed by professionals trained to do this.


Professional Construction Design for Flour Mill Plant
ABC Machinery is one professional flour mill manufacturer and supplier, offering you high quality flour making machines and service from factory building to equipment installation. If you have interest in setting up flour mill production line as business plan, you can contact us for more details, we are always here for you!
Customizing Your Flour Mill Plant Construction Design
There are numerous companies out there that promise to give you great services when it comes to designing and completing flour mill plants. They offer these services at different flour mill plant costs. Not all of these companies deliver what they promise. This is why you need to go for a reputable company that knows exactly how to give you quality flour mill plants. (Related article: wheat flour production process>>)
Before Starting Flour Mill Design
When you have no idea how to start a flour mill plant, you can ask us for information. And you should think well about the following questions:
What exactly are you looking to get? Maize flour? Or wheat flour?
How does the flour milling industry develop in your local place?
What is your purpose to get a flour mill plant? for your home use? or for commercial purposes?
Do you have a large space or small space reserved for the plant?
How much is your budget to build a flour mill factory?

etc …
NOTE: It is very important for us to get this information from our clients because it enables us to know the exact size we need to design for the client. Then we can easily figure out what you need from the original design to the factory completion. Contact us for more information about questions before starting flour mill factory design.

Starting Designing Flour Mill Construction
Once we have all the details we need, we get to the designing stage. At this stage, we come up with a plant design including the process desigin and factory construction we know our client will get the best solution. We have a team of professionals who are highly qualified to do this. Some of the features you should expect from our flour mill plants include: low power consumption, dust-free and spare parts among other features that make our plants the best in the market. (Learn more: flour mill plant layout>>)
Flour Production Process Design
Whether you start to make maize flour or wheat flour, you need to make the process design to meet your requirements. The flour making process is mainly decided by the scale of the flour mill plant you are going to build, the more the scale is, the more complete the process.


Simple Small Flour Mill Plant Process Design



Complete Commercial Flour Mill Plant Process Design
The pictures above show the flour production process difference between the large and small flour mill machine factory. If you don't know how to make sure the scale, you can contact us, we can help you to design the process and construction based on your requirement and condition.
Flour Mill Machine Factory

Building
After we have designed the flour mill construction and you like where the project is headed, we get to bring our plan to life by constructing the plant. (Related article: flour milling machine for sale >>)


construction design for small wheat flour mill
We have highly trained and experienced staff for this. They make sure that the plant is well executed as per the designs and plans given to them. This is what helps them come up with a flour mill plant which is exactly the same as the one in the plan and design. The construction takes a while to complete since the people involved have to make sure the execution is perfect. There are also test runs that are done in order to ensure that nothing in the plant is faulty in any way. The client is also trained on how to use the plant in order to ensure they have an easy time once they take it home.
Video of Flour Mill Plant Working Site
Here is the video of one flour mill plant construction based on the requirements and actual codnitions of our client. If you have any questions about flour milling machine construuction, please contact us for more information!

What Is the Cost of Designing A Flour Mill Plant Construction?
Most people ask the question: how much will it cost to build a flour mill plant? Actually, the cost of building a flour mill plant is decided by many elements, including raw materials cost, factory building cost, flour mill machinery cost, energy cost, operation cost and labor cost etc. Among these factors, you may not change the cost of raw material and energy consumption, but you can choose the cost-effective flour milling machinery manufacturer and supplier to get control of the production cost. (Read more: mini flour mill plant cost>>)
Cost-effective Flour Mill Plant Manufacturer --- ABC Machinery
ABC Machinery has been engaged in the flour mill manufacturing industry for over 20 years, possessing its own manufacturing factory and professional technicians, not only offering single flour milling machines, but also providing complete flour mill plants from construction design, process guidance to after-sale services etc.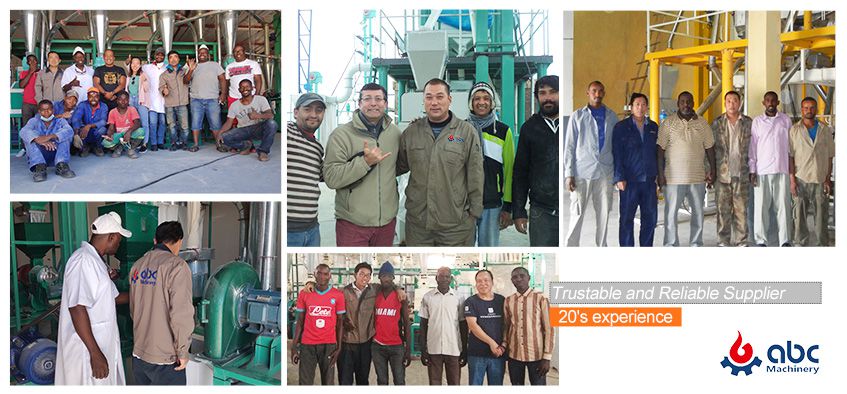 Choosing Cost-effective Flour Mill Machine Manufacturer
And our machinery has been delivered to all over the world, here are some successful flour milling machine plants set up around the world.
Successful Flour Mill Plant Built around the World
| Country | Plant Name |
| --- | --- |
| New zealand | |
| Bangladesh | |
| Lusaka Zambia | |
| Ethiopia | |
Buy factory price flour mill plants from flour mill machine manufacturers or suppliers--- ABC Machinery, learn to process maize/wheat flour , get FREE guidance to set up flour mill plant projects for business in Kirghizia, Pakistan, Ukraine, Romania, Kenya, Ethiopia etc. at low cost. To get more information about flour mill plant construction, please contact us freely, we are always here for you!

Can a 10-ton flour mill line be used to process wheat and corn?

No, it can't. The processing of wheat and corn is different, corn kernels are large, the processing process does not need to wet the corn for a long time, the powder does not require too fine, while wheat is required 24 hours of tempering process, fine requirements are relatively fine, to remove the bran, their prices are not exactly with the same process.
Can two 50 mills produce wheat flour with an output of 700kg/h?
Yes, they can. The output of two 50 mills can be reached, but the supporting wind screen should be increased, rather than using a set of 20 tons of line, which has a sieve, the quality of flour will be improved, two mills a skin mill a heart mill, the flour is not evenly mixed, the quality of flour has an impact.
   SEND ENQUIRY
We receive enquiries in English, Español (Spanish), Русский язык (Russian), Français (French) and العربية (Arabic). Our professional team will reply to you within one business day. Please feel FREE to contact us!