10TPD Mini Maize Flour Milling Plant Delivered To Kenya
Recently, one set of our 10TPD maize flour milling plant was successfully delivered to Kenya.
Project Name: corn/maize flour milling plant
Production Capacity: 10 ton per day
Main Process: cleaning, peeling, crushing, milling, screening and packing
Main Equipment: maize cleanser, peeling machine, crusher, 2 set of maize milling machines, and weighing packer.
10TPD Mini Maize Flour Milling Machinery Display
As you can see, in this small maize flour milling process, we equipped two sets of peeling machines, 2 sets of maize flour milling machines and fully automatic flour packing machine, which is based on the actual codnition of our client by our professional grain art designer and engineer team to ensure that the conditions of the production process is completed, to reduce energy consumption, while reducing the impact of magazines, ash, bran star on the finished product.
Hot Sale Mini Grain Flour Milling Plant
These small scale grain flour milling machine is our hot-sale types, welcome to contact us for more information about grains flour production, flour machinery equipment, flour milling business plan solution etc.

Why Should You Buy A Mini Maize Flour Milling Plant?
According to the analysis of data these days, it shows that more and more people are inquiring about our 10TPD mini maize flour milling machinery. We concluded three reasons that you need to buy mini maize flour milling machinery. (Related article: mini flour mill plant cost>>)
Highlights of Mini Maize Flour Milling Machinery
Mini maize flour milling machinery is designed and manufactured with impact and simple structure, easy operation, costing less energy and labors.

With small size but complete maize flour production process, mini maize flour milling plant is easy to install, debugging and maintain.

Flexible process is designed in this small maize flour milling plant, we can customize the process and machinery based on your requirement and condition.
Bright Future of Maize Flour Production
Maize, also called corn, is one of the three common grains (wheat, rice and maize/corn) in the world, and everyone intakes the nutrition from maize/corn every day. With the maize flour milling machinery, the final produced maize flour has good taste, high nutrition and different fineness, meeting the different requirements for the diversification of food. (Read more: flour milling process>>)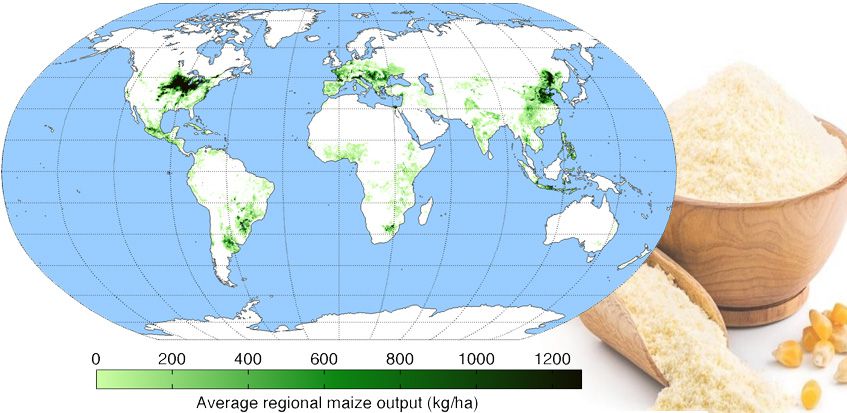 Global Distribution of Corn Production
Also, not only human food can be processed, but also feed for livestock or poultry animals, affecting out live in all aspects. Thus, maize flour will not be unnecessary, the maize flour production equipment will not stop developing.
Low Cost and High Return
If you are planning to invest in the corn making industry, this mini maize flour milling plant is your best choice, which is with low cost but with high return. The complete set of equipment adopts an excellent automation solution designed by ABC Machinery reduces labor expenditures and reduces production costs.(Related article: flour mill building design>>)


Final Corn Flour Produced by Mini Maize Flour Milling Machinery
And the professional team of grain art designers and commissioning engineers ensure the advanced nature of the process, which not only reduces energy consumption, but also reduces the impact of magazines, ash, and bran on the finished product. The yield rate and product quality of various products have reached the standard, increasing the competitiveness of the final corn flour in the corn product market.

Buy factory price mini maize flour milling plant from ABC Machinery, learn to process maize flour, get FREE guidance to setup mini maize flour milling plant projects for business in Kirghizia, Romania, Kenya, Pakistan, Ukraine, Ethiopia etc. at low cost.
   SEND ENQUIRY
We receive enquiries in English, Español (Spanish), Русский язык (Russian), Français (French) and العربية (Arabic). Our professional team will reply to you within one business day. Please feel FREE to contact us!