5 Tons Per Day Maize Flour Milling Plant
As the world population is increasing every year, there is more demand for health, nutrition, and food needs. Maize flour is used in making different ready-made food products. As people are getting more health-conscious, demand for gluten-free food is rising gradually which shows that small scale maize flour milling machines are also getting more popular. The demand for maize flour milling machines is rising globally (especially in the agricultural countries) due to the more demand for corn flour. So investing with little money in small scale maize flour milling plants is a good option for making lots of profit in the near future. (Related Post: How to Start Flour Mill Business?)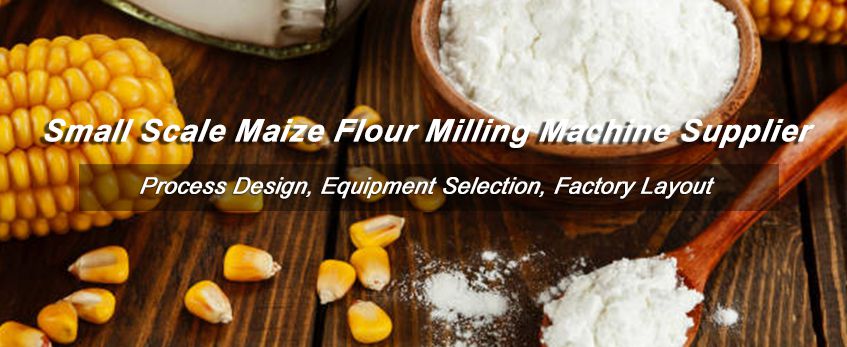 Maize Flour Milling Business
Maize flour is used as a staple food around the globe. It is obtained by grinding dry maize with the help of a maize flour milling machine in flour mill plant. This machine is very effective in cleaning and grinding the corn into fine particles. In the market, different flour mill plant manufacturers and different types of small maize flour milling machines are available of different sizes, prices, and capacity. A buyer must be aware of his requirements or needs before purchasing machines for a maize flour milling plant.
5T/D Small Scale Maize Flour Milling Machine - ABC Machinery
ABC Machinery newly developed small 5TPD maize flour milling plant is suitable for small scale maize flour milling business. It is composed of cleaning machine, peeling machine and flour milling machine and screw conveyor. It is a profitable mini flour mill machine that consumes less power, produces high-quality maize flour, and has an easy to use mechanism.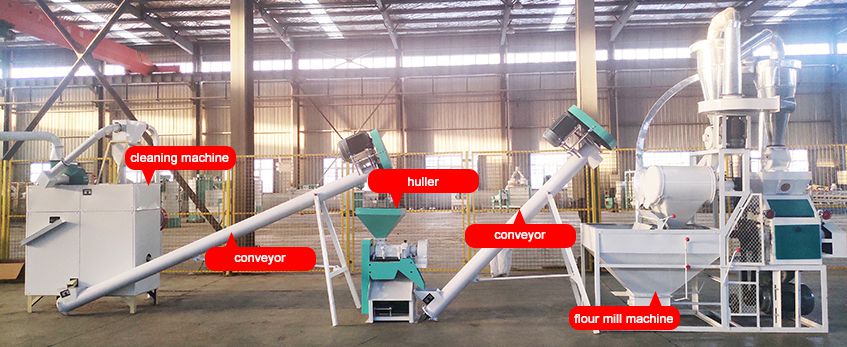 Maize Flour Milling Machine
► The cleanning part is ZHQL50 combination of cleaning machine that adopts sieve, destoner, wiping, magnetic separation and air separation, etc.;
► The peeling part is NF-90 multi-functional peeling machine that can process various grains, like maize, rice, wheat, mung beans, lentil, soybeans, etc.;
► The flour milling part is FC-40 flour mill machine that adopt the pneumatic transmission, the raw material is elevated by negative pressure and use the cyclone to separate the raw material and the pressure. The machines are made up by aspiration system, separation system, stock bin and OS. Easy to operate and structure is compact;
Technical Data of 5TPD Maize Flour Milling Plant
Model
Capacity
Power
ZHQL50 Cleaning Machine Combination
400 kg/hr
3KW
NF-90 Peeling Machine (Corn)
300-350 kg/hr
4kw
FC-40 Flour Mill Machine
350-450 kg/hr
11+1.5kw
Flour ExtractionRate of Whole Maize Flour Milling Plant
Fine Maize flour: 75~80%; Maize Germ & Maize Bran & Fodder Flour:20-25%
The workshop for this small maize flour mill plant is about 8*2*4 meter (L*W*H) and the fine maize flour is 30 mesh. If you are interested in our equipment, please just contact us directly to get the latest FREE quotation!

Making high quality maize flour for sale with maize flour milling machine projects in Kyrgyzstan, Pakistan, Bangladesh, Uzbekistan, Saudi Arabia, etc., at low cost by maize flour milling machine manufacturer or supplier at factory price. For more information about the production cost and equipment price, you can contact us, we are always here for you!
Advantages of Small Maize Flour Milling Machine
Using a small scale maize flour milling machine brings many benefits. Some of the worth mentioning advantages are:
Small scale flour milling machines are less costly as compared to large flour mill project. So you can consider it a good option to invest in today to start a small scale flour mill business and then convert it into a large maize flour milling plant with the profits earned. (Read More: Fully Automatic Four Mill Plant Cost >>)
These machines are comparatively easy to handle and operate. Only one worker can handle the whole machine if he or she is aware of how to operate it. You will not need a large labor force for that so you can save money by hiring only a few workers and time as well. The flour milling process is relatively simple and easy.
Larger machines mean larger engines and more need for power supply. It can be expensive if you are on a short budget. On the other hand, small maize flour milling machines do not have such requirements. Their engines are according to the machine size and consume less power comparatively.
Although a small maize flour milling machine is small in size but its flour production capacity is very good. If you let it work for hours you can get as much end product as a large maize flour milling machine gives. If you buy a small machine as an investment today and operate it rightly then its high productivity level will save you a lot of money tomorrow.
These machines are very safe to use. You do not have to put your hands inside as it can be handled with machine buttons. To control the handling via these buttons you need a trained operator.
Low Investment and More Profit
Most of the small scale maize flour milling plants are constructed in rural areas because of the easy access to raw material. So it saves a lot of money that would have been consumed for the transportation of raw material otherwise. Only a few operators are required for handling, its price is low comparatively, it consumes less energy, and you can save on transportation as well. These factors collectively make it a good choice for investing with less money. (Read more: Cost of Setting up a Flour Mill >>)
5TPD Small Maize Flour Mill Machine Operation Video
Here is one working video of our 5TPD maize flour milling plant sent by our client, who is satisfied with the production effect, meanwhile he told us he will enlarge the production capacity next year. If you want to build a small maize flour production plant, you can feel free to contact us for more information.

ABC Machinery is now a leading manufacturer in China that specialized in grain and oil processing machine. Our flour mill machine for wheat and corn/maize has been exported to many countries, like Pakistan, Bangladesh, Uzbekstan, Saudi Arabia, Indonesia, Kenya, Nigeria, Egypt, Russia, Ethiopia, etc.. We have professional and experienced flour mill service team to help our customers get the customized plan to setup flour mill plant projects, from mini scale to large scale. If you are interested in maize flour milling, wheat milling or other grains processing, please contact us directly.
What Is The Maize Flour Milling Machine Market Like?
Maize is a temperature-loving crop, one of the most widely distributed crops in the world, cultivated in large quantities from 58 degrees north latitude to 35,-40 degrees south latitude. North America has the largest area under cultivation, accounting for nearly half of the world, followed by Asia, Europe, Latin America and Africa.


Global Maize Production Distribution
As an important resource for diet and nutrition, maize meal is by far one of the world's most important cash crops. Revenues and profits in the corn flour industry are driven by the price of maize. Maize prices have remained stable for five years despite a number of factors, including weather, drought, and flooding. So, you have no worries in no returns back in your maize production business.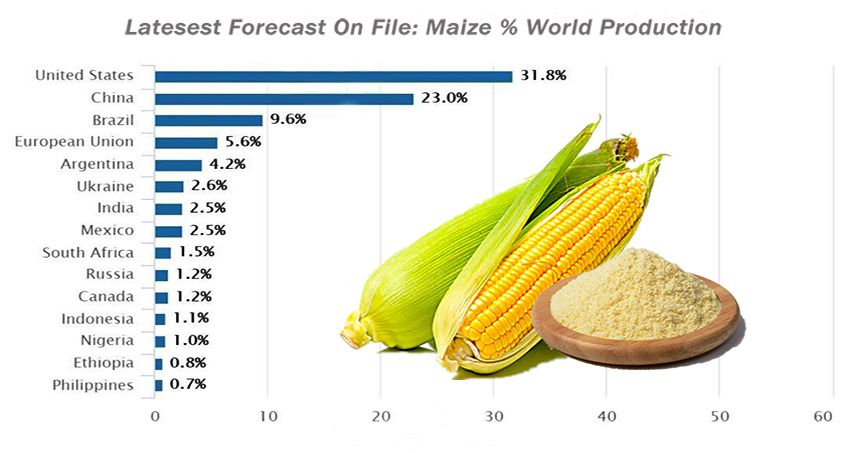 Maize Flour Production Percentage By Country
Our 5TPD maize flour milling machine has been widely used in various fields for its hilights mentioned above. The produced maize flour from the 5TPD maize milling machine can not only be for human consumption, but also to make livestock and poultry animal feed, used as industrial raw materials, etc..

Maize flour making machines have a broad market prospect and bright future in our daily life in recent years, you can get what you want whether you want to process corn flour for sale, or start maize flour milling companies, even if you want to invest in the maize flour machine industry. If you have interest in maize flour milling machinery, you can contact us for the latest price list and maize flour production details!
   SEND ENQUIRY
We receive enquiries in English, Español (Spanish), Русский язык (Russian), Français (French) and العربية (Arabic). Our professional team will reply to you within one business day. Please feel FREE to contact us!