Guide to Setup a Flour Mill Business for New Investors
With the demand for gluten-free and low-carb products continuing, the flour milling imdustry is expected to attract more and more investor to start their business in flour mill, but the flour mll business success requires careful planning, management, and a keen understanding of the market. Factors such as market demand, competition, production costs, and target market are all crucial considerations for a profitable flour milling business.


To Setup Flour Milling Business for Profit
ABC Machinery is one experienced manufacturer and supplier who offers factory prices flour milling machine and complete flour processing business plan setup, whether you want to start flour mill business in your local place or building flour processing factory in South Africa, Nigeria, Bangladesh, Indonesia, Sri lanka, Ethiopia, New Zealand etc, we are always here for you!
Is Starting A Flour Mill Business Profitable?
Flour milling is a stable and mature industry that is less volatile than many other sectors, making it an attractive option for investors looking for stable returns. (Related article: flour milling business setup in bangladesh>>)
Flour is the main ingredient in many food in our daily life, with the increasing of the global population, flour demand will increase, too.

Milling technology is an evolving technology that produces higher quality flour that is more in line with modern eating habits.

Investing in the flour industry also provides exposure to different global markets and currencies, providing investors with further diversification of their portfolios.
Cost-effective Flour Milling Plant for Business Setup


Flour Milling Plant for Small Business Plan


Large Scale Flour Milling Projects at Low Cost
Therefore, the flour industry is an extremely attractive option for investors seeking stable returns, diversification and exposure to different markets. Meanwhile, as with any investment, it is important to conduct thorough research and analysis before deciding to start flour mill business. If you have any questions about flour milling business details, you can contact us for free.

Startups Guide: How to Start Flour Milling Business by Steps?
Entrepreneurs with a love for milling and baking have a great opportunity to start a profitable and fulfilling business by opening a flour mill. Flour, a crucial ingredient in numerous recipes, is a highly sought-after commodity globally. This makes flour milling a promising venture as long as you have a robust business plan and sufficient resources. Our comprehensive guide will take you through the crucial steps required to establish a successful flour mill business. (Read more: wheat flour mill plant layout >>)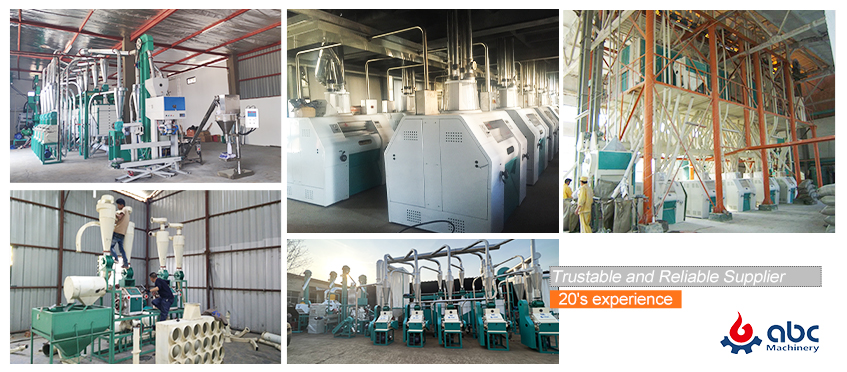 Low Cost Flour Milling Business Setup by ABC Machinery Around the World
Step 1: Conduct Flour Market Research
Before you start your flour mill business, it's crucial to research the market thoroughly. You need to identify the competition, understand customer demand, and analyze the trends in the industry. Researching the market will help you identify your target customers and understand what they're looking for. You can conduct market research by analyzing online data, visiting local bakeries and grocery stores, and talking to potential customers. (Related article: corn flour making machine price >>)
Step 2: Draw a Plan for Your Flour Mill Business
To ensure a successful business venture, it is crucial to have a meticulously crafted business plan that encompasses your objectives, operational tactics, financial projections, and overarching approach. A robust business plan will enable you to obtain funding, allure potential investors or partners, and effectively manage the intricate startup process. The essential components that your business plan should incorporate market analysis, marketing and sales strategies, financial projections, legal and regulatory requirements, operational plan. (Related article: guide to build wheat flour mill company in South Africa>>)

Step 3: Secure and Adequat Capital
Starting a flour mill enterprise requires a considerable outlay on equipment, property, and raw materials. You have several financing alternatives at your disposal, such as bank loans, grants, crowdfunding, or angel investors, to cover these expenses. Your flour processing business plan will assist you in determining the funding amount required, and you will need to present it to potential lenders or investors to secure the essential capital.
Step 4: Select a Suitable Location to Build Flour Mill Factory
Choosing the right location is crucial for your flour mill business. You'll need a place that's accessible to raw materials and customers, with adequate space for the milling equipment and storage facilities. Ideally, you should look for a location that's zoned for industrial use, with easy access to transportation routes, and adequate power supply. Additionally, you'll need to comply with local zoning regulations and obtain the necessary permits and licenses. (Related article: flour mill construction>>)
Step 5: Purchase High Quality Flour Milling Equipment
The equipment you need for a flour mill business depends on the size and capacity of your operation. You'll need a milling machine, grain storage silos, cleaning and grading machines, and packaging equipment. The quality of your equipment is crucial to the quality of your flour, so it's essential to invest in reliable and high-quality machines. You can purchase new or used equipment, depending on your budget and preferences. (Related article: 5 tips to choose suitable flour mill machine manufacturer>>)
Step 6 Flour Mill Business Operation
Operating a successful flour milling business is a challenging endeavor that demands a range of skills and resources. A crucial factor for running a thriving mill is assembling a team of knowledgeable and skilled employees who possess a deep understanding of the milling process. Alongside this, it is essential to develop a comprehensive marketing strategy that effectively targets potential customers and promotes business growth. To maintain consistent success, consistent monitoring and performance evaluation is necessary to identify areas for improvement and facilitate any necessary changes. Ultimately, a flour mill business must be driven by a dedicated team committed to excellence in every aspect of its operations.
   SEND ENQUIRY
We receive enquiries in English, Español (Spanish), Русский язык (Russian), Français (French) and العربية (Arabic). Our professional team will reply to you within one business day. Please feel FREE to contact us!